Do you want to start making money online? Haven't you yet got any profitable income ideas or niches to work on and earn money? If the answer of the 1st question is YES and the 2nd question is No. Then, this article is for you!
Earn Money Online From Home
Earn Money Online From home with these 9+ Online Money Making Methods with BONUS TIPS! Start your Online Income in 2021 with these 9 Best Income Ideas! These methods have been practically implemented by the author and he is sharing his genuine review/experience with these methods which helped him earn some real bucks!
Let's Get Started with these Money Making Methods for 2021!
1st Method – Instagram shoutout
This method also doesn't require any investment, other than a bit of research, and as always.. Dedication.
Here, we will be selling Instagram shoutouts BUT don't worry, you're not going to grow your own account, spend hours upon hours getting followers, etc.
Here we will be selling shoutouts on other people's accounts, mark up the price and profit from it.
First step you have to do is find an account which you want to work with.
Account size doesn't matter, it can be 10k followers, 100k, 1 million, 10 million, etc.
You're going to DM/email/contact them and ask for prices for shoutouts. Ask for:
12 hour shoutout
24 hours shoutout
Shoutout + story post
Shoutout + link in bio
Shoutout + story post + link in bio
After they give you the prices, write them down and move on to the next step.
Before contacting them, make sure you check their engagement as you don't
want to work with an account which has fake followers, buys followers, likes, etc.
You can easily check engagement of a certain account using this site:
This is how it should look like if person didn't purchase any followers:
After you've checked their account to make sure they have a genuine following, you're going to find people/products/software/businesses which you are then going to email and offer them a shoutout. Don't worry, I will show you step by step how you can do that.
Head over to https://myip.ms and paste this address – 23.227.38.32. Then click on "Whois lookup"
Then click on "Other sites on this IP":
After you've done that, you will see all websites which are powered by Shopify. Those sites are e-commerce stores and people are buying from them.
You can see that there is very popular workout brand called Gymshark, extremely known clothing site called Fashionnova, and more.
But those sites are too big for us and we likely won't get any replies from them as they have a dedicated marketing team that is already advertising their products.
We're going to scroll down and click on "View all records":
Now you're going to find a site which is in the same niche as the account we contacted for shoutouts. I contacted a survival account which showcases different survival tutorials, hunting products, etc, so I'm going to look for a store that is in that niche.
After a bit of research, I found this store: https://jc-customflashlights.com
Then I'm going to contact them and offer to promote their product on "my" page.
If the account you contacted said they will do a 24 hour shoutout for $70, I'm going to contact JC custom flashlights and say how a 24 hour shoutout will cost them $100. Explain the benefits of advertising on IG, how everything works, etc.
That's it, I made $30 being the middleman and doing barely any work on my end.
2nd Method – Selling your own Product
This is one of my favorite methods as it requires $0 investment! You just need some dedication, eBay account and a PayPal account.
If you don't have a PayPal account, simply make one (or buy one!). Same goes for eBay account. If your eBay account has been banned in the past, just make a new one with a new PayPal using VPN.
Now go to https://www.indigitalworks.com/ and go to "Free products" section.
I recommend free ebooks & software but you can use videos, templates, graphics, music as well.
Now you will go to eBay (https://www.ebay.com) and register/login to an account.
Then we're going to sell the item we got from Indigital Works. I prefer eBay but you can definitely sell it on many other platforms, such as Craigslist, LetGo, Facebook group and so on.
Bonus Tip!
I like to use influencers and affiliate marketing for this method. You will essentially find the people in the same niche as your product is in, contact them and offer them to sell your product for a commission.
Let's use this Copywriting software which gives you over 1,000+ fill-in-blanks which you can use for your internet business. This is especially good for copywriting freelancers who have an email list.
While you probably wouldn't purchase this, there are copywriting enthusiasts who are looking to expand their knowledge and would gladly pay for that software.
I found this copywriter on Twitter (he is probably building his personal brand) and I can simply email him and offer him to promote my product to his audience.
My product = copywriting software
His account = copywriting niche
His audience = copywriters / people who want to become copywriters.
See what's going on? My product is perfect for them, and everyone wins.
You make money (without any investment), influencer makes money (commission) and people who buy get the software which helps them become better copywriters.
I used this as an example, you can do any niche, product, software, etc. It's not hard at all, I just did it in front of you.
If you can't find his email, subscribe to his email list and then once he sends out a new email, you will be able to see it.
He will see you're on his list which will boost your chances of working with him.
3rd Method – eBay flipping
This method basically revolves around buying low and selling high, but don't worry, you will not be buying anything until a sale has been made.
Go to https://www.aliexpress.com/ and see what products are trending.
As I've been doing this for a few years now, I can already suspect which items are going to be selling like crazy.
In this case we will focus on motorcycle and car items, specifically (I will show you an example) of a motorcycle exhaust which you can sell.
On Aliexpress, Akrapovic exhaust (extremely popular brand in motorcycle/car world) is just under $50, with FREE shipping.

On eBay, that same exhaust goes for $200 – $300.
Buy it at $50 and sell it for $150 – $200. That is $100 – $150 of pure profit just by listing items and fulfilling orders.
If you want to take it an extra step, you can create a Shopify store and actually run paid advertising (which obviously requires investment)
You can also sell it on various other forums (not valid for every niche!)
In my case, I can Google akrapovic + forum and see what comes up.
I can see that quite a few car/motorcycle forums come up. All of them have a potential for me to sell there, just make sure you follow the forum rules and post in correct section.
If I were to do Avengers, I would probably do it on eBay or Marvel/Avengers facebook pages and groups.
As the method before, you can contact influencers and see if they would be willing to promote your product for a commission. If you were to do that, I highly recommend you to get a Shopify/ecommerce store.
4th Method – Arbitrage
This method is extremely simple to understand. You will be basically apply for a transcriptionist/captioner job but you won't be doing any of the work. You will outsource all of the work so you can just sit back and wait for the money to appear in your account.
Head over to https://www.rev.com/freelancers and fill our your first & last name, email address and position (whichever one you want).
You will be required to complete a small quiz (10-20 questions) where you just need to tick the correct word which goes in the sentence. You will obviously not going to do this. You will use that small quiz to actually qualify people who will do this for you, so you can be sure they know what they are doing & they're not going to scam you.
Then navigate to https://www.upwork.com and look for transcriptionists.
Click on filters and change the hourly rate to $10 and under OR $10-$30.
Easy way to do it is to screenshot them each question and let them pick an answer. If you see they're really good and have positive feedback on Upwork, you can even pay them their hourly late for you to complete the quiz. Otherwise, as stated before, just screenshot them questions and qualify them.
You will need to pay them anywhere between $8 – $20/hour.
Rev is paying you on average $0.47 per audio/video minute. 1 hour has 60 minutes so you are getting paid around $28/hour. -$10/hour for the freelancer and you are getting around $18/hour for doing no work at all.
I recommend finding someone from the US but other countries are fine as well. Through communicating with the person, you can see their English level. You can also use Fiverr for this, or any other Freelance site.
5th Method – Crypto arbitrage
In this method we're going to check prices of certain cryptos and buy/sell them for profit. This is not crypto trading, you don't need to check any charts, have any prior experience, or everything like that.
First of all, go to https://coinmarketcap.com and find a certain coin you want to arbitrage.
For this example, I will use Waves but you can check certain coins and see which ones will give you the most profit.
As you can see, price of 1 WAVES on Binance is $2.14. Then you can see that price of 1 WAVES is $2.98 on Exrates. Price is like that at the moment, obviously, when you read this, price can be lower/higher or the same.
$2.98 – $2.14 = $0.84 profit per 1 Waves.
Now that obviously doesn't mean much, $0.84 profit is basically nothing, but keep reading please..
Now let's say you invest $200 in this method.
You're going to buy $200 worth of Bitcoin at 4% for $208 in total. Then you will head over to Binance (or whatever exchange is the best for your crypto), register an account, deposit your Bitcoin and purchase Waves.
Then I would navigate to the 2nd exchange (Exrates in my case), send my WAVES and sell it on their platform for Bitcoin (BTC) and repeat the process.
6th Method – Instagram OG reselling
In this simple method we will be finding OG (rare) names on Instagram and we'll be reselling them for a higher price. Basically, if you try enough times, you can literally make thousands of dollars out of this, let me give you a quick example.
I found out that someone is selling the username "palette" on a website.

Note: Usually sellers censor the username so Instagram won't close the account. From the hints we can figure out he's selling the account "Palette".
If we'll search for "Pallette" in Google, we'll find that there's a company called
"Pallette": http://palette.com
They have an Instagram account either:
But, unlike the domain, their Instagram account doesn't have the company's name. Therefore, we can take advantage out of this and offer them the name. You can DM them via Instagram, send them an email or contact them on Twitter.
Once you offer them the account, feel free to take $1k+ or more since the account is very rare.
7th Method – Amazon Gift Cards flipping
This is an easy method that will help you to achieve $30-$50/day easily, let me get right into it. There are a lot of people that are selling their Amazon gift cards for cheaper. With that in mind, we easily flip your AGC to 90-95% value with one of my methods.
People usually sell their cards for 65-75% value. If we manage to flip it for 90%, we made 15% profit.
If you want to sell them for 80% easily without talking to people you can sell them on a website like ipayyou.io.
8th Method – Hypebeast reselling
In this method we will be reselling popular hypebeast brands like Supreme, BAPE, Palace, and so on. This method requires investment and generally speaking, the more you invest, the more you will profit.
First of all, head over to https://www.supremecommunity.com/ so you can familiarize yourself with all the drops, prices, times, etc.
You can also follow this twitter for regular updates on when and what will drop: https://twitter.com/dropssupreme.
Drops are on Thursday at 11:00 AM London/New York time zone (EU & US websites). Except between seasons and on some holidays.
Now that we've done that, we need to familiarize ourselves with what are the items people are looking to buy and ones that they don't want.
Go to https://supremecommunity.com/, click on Droplists -> Latest.
Here we can see people's votes on items, ones they like, they don't like, etc.
We can see that Supreme & Swarovski t-shirt is extremely popular and a lot of people are going to try and get it.
On the other hand, the Supreme script logo is not really popular, meaning not a lot of people want to buy it.
Supreme t-shirt is priced at $398 so we need to invest that amount. You can obviously invest less if you want, there are items which are priced as low as $40.
After we've done that, we will need a Supreme bot, which will purchase items for us. Supreme items get sold out within seconds (literally), it's almost impossible to "manually" purchase it – however you are more than welcome to try.
2 of the most popular bots are HyperCop and Copbot.
While they are a bit expensive, you can earn the money you invested + profit just by buying 1 product. You'll see what I mean below.
Provided you actually purchased the bot, managed to purchase an item, now it's time to resell it.
That same t-shirt you purchased for less than $400, is now being resold for $1,000 – $2,000 on eBay and other platforms.
Another popular site for hypebeast items is StockX and Grailed, take a look at the prices there:
Grailed: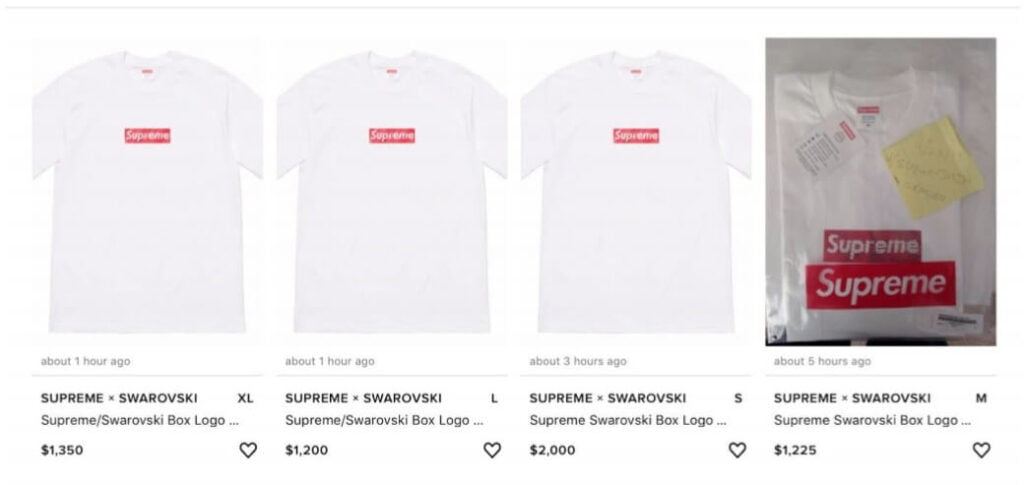 Let's do a quick math there:
Let's say you invest $150 in the bot and another $400 in the t-shirt & shipping. Your total investment is $550.
You can easily sell that same t-shirt for $1,000 (A LOT more but let's use that as an example)
$1,000 – $550 = $450 OF PURE PROFIT for doing 1-2 hours of work per week.
9th Method – Bitcoin reselling
This method is extremely beginner friendly and can be used to earn some side income, maybe to invest in another business, or something like that.
Nature of the method is very basic, you're going to be buying low and selling high.
First of all, you're going to find a website which sells Bitcoin for 0-5%. This can be done on a lot of websites but below I'll link some of my favorite.
Then you're going to open a wallet at https://www.blockchain.com (or you can
use any other online/offline/hardware wallet) and you're going to enable 2FA and email verification
If you don't know how, please read this:
https://support.blockchain.com/hc/en-us/articles/211164103-Enable-2-Step-Verif
ication-2FA
And this: https://www.blockchain.com/learning-portal/security
After you've done that, then you're going to buy Bitcoin and send it to your Blockchain wallet.
For better explanation, you can read this article by Blockchain:
https://www.blockchain.com/learning-portal/wallet-faq
Then you're going to navigate to LocalBitcoins and you will register an account
there: https://localbitcoins.com/
Make sure you secure your account with 2FA. Never give out your 2FA code to anyone, either on LocalBitcoin or Blockchain!
As you can see, rates on LocalBitcoins are awesome for sellers:
At the time of writing this, price of 1 Bitcoin is $29,071 and on LocalBitcoins, it's selling for $29,277 – $29,592.
Let's do a quick math here..
If we buy $100 worth of Bitcoin for 4%, that is going to cost us $104. Then, we can go and sell that same Bitcoin on LocalBitcoins for 10-17% fee.
Meaning we will get paid $110 – $117 for $100 in Bitcoin. That is around $10 profit for $100 purchase.
That is an extra $300/month by doing almost nothing. Setup your listing on LocalBitcoins (you can even purchase an account which has positive feedback) and leave it. Once someone opens a trade with you, fulfill it and that's it.
Obviously, if you were to invest more, you would profit more. Invest $1,000 and buy at 4%, you will pay $1,040. Then you can go ahead and sell that same BTC for $1100 – $1170. Which is around $100 – $120 profit. Remember, the more you invest, the more you will earn.
Conclusion
Earning money online was never that easy as it is today in this internet era we have boundless opportunities to earn money online and I have listed only 9+ best income ideas which I have practically applied and tested and is sure to help you earn money in 2021! Wishing you a very Happy New Year 2021 :). This is Social Cry signing off. Checkout our latest posts on https://socialcry.com/finance/